Product Description:
10-port 100M Ethernet Power Switch (POE Switch), using high-quality high-speed network IC and the most stable POE chip, POE port meets 802.3af or 802.3at standard, this series of POE switches can be 10/100M Ethernet The network provides a seamless connection, and the POE power port can automatically detect and power the powered devices that comply with the IEEE802.3af or IEEE802.3at standards. The non-POE devices are forced to supply power only.
Main Feature:
1.8* 10/100 Rj45 adaptive POE power ports + 2* 10/100 Rj45 uplink network ports
2. Comply with IEEE 802.3, IEEE 802.3u, IEEE802.3af/at standards
3. Ethernet port supports 10/100M adaptive and POE functions
4. Flow control mode: full-duplex adopts IEEE 802.3x standard, half-duplex adopts Back pressure standard
5. Support port auto flip (Auto MDI/MDIX)
6. Switching system using store-and-forward
7. All ports support wire-speed switching
8. Zero configuration feature, automatically supplied to the adaptive device
9. Panel indicator monitoring status and help failure analysis
With three-speed one-button smart dial switch, support VLAN, Extend, Standard three modes
Name

10-port 100M POE switch

Model

STD-POE5203-10

Port definition

8 Ports 10/100M RJ-45+ POE 2 ports 10/100M RJ-45

Network protocol

Support IEEE802.3, IEEE802.3u, IEEE802.3x,IEEE802.3af/at

POE parameters

PoE standard: Meets IEEE802.3af / IEEE802.3at

Maximum power of Single port:15.4 W (IEEE 802.3af)

Maximum power of Single port:30 W (IEEE 802.3at)

PoE compatibility: IEEE 802.3af/at adaptive

POE port output voltage: DC48V

POE power supply core: 1/2+ ; 3/6-

Dial Code

Vlan: Port isolation mode. In this mode, the POE ports (1-8 ports) of the switch cannot communicate with each other and can only communicate with the UP-link port. This helps prevent broadcast storms from increasing the stability of the network.

OFF: Normal mode, all interfaces can communicate with each other, the transmission distance is less than 100 meters, and the transmission rate is 10M/100M adaptive.

Extend: Link extension mode. In this mode, the POE power supply and data transmission distance of the switch can be extended to 250 meters, and the transmission rate becomes 10M.

Network transmission medium

10Base-T: Category 3 (Cat3) or above UTP/STP (≤100m)

10Base-T: Category 6 (Cat6) or above UTP/STP (≤250m)

100Base-TX: Category 5 (Cat5) or above UTP/STP (≤100m)

Performance characteristics

Backplane bandwidth: 2Gbps

Packet forwarding rate: 0.1488M pps/per mouth

Cache: 448K

MAC address table: 1K

Forwarding mode

Store and forward

Voltage

Input: AC110-260V Output: 52V2.88A

Power

150W

Indicator light

PWR

Power Indicator

Constantly lit: The device is powered

Not lit: the device is not powered

SW

Dial indicator

OFF: Normal mode, no light

Vlan: port isolation mode, always on

Etend: Link extension mode, slow flashing

1-10

Link connection light

Constantly on: The link is normal.

Shining: data transmission

Not light on: the link is unreachable

working environment

Working temperature: -20 ° C to 55 ° C

Storage temperature: -40 ° C to 80 ° C

Operating humidity: 10% to 90% RH does not condense

Storage humidity: 5% to 90% RH does not condense

Physical structure

Product size (L × W × H): 220mm * 160mm * 35mm

Packing size (L × W × H): 305mm * 185mm * 55mm

Product weight: 0.9kg

Package weight: 1.2kg

Packing list

1.POE switch: 1 set

2. Power adapter: 1 PCS

3. Instruction manual: 1PCS

4. Certificate of compliance: 1PCS

5. Warranty card: 1PCS

Average normal working hours

100000 hours

Warranty

2 years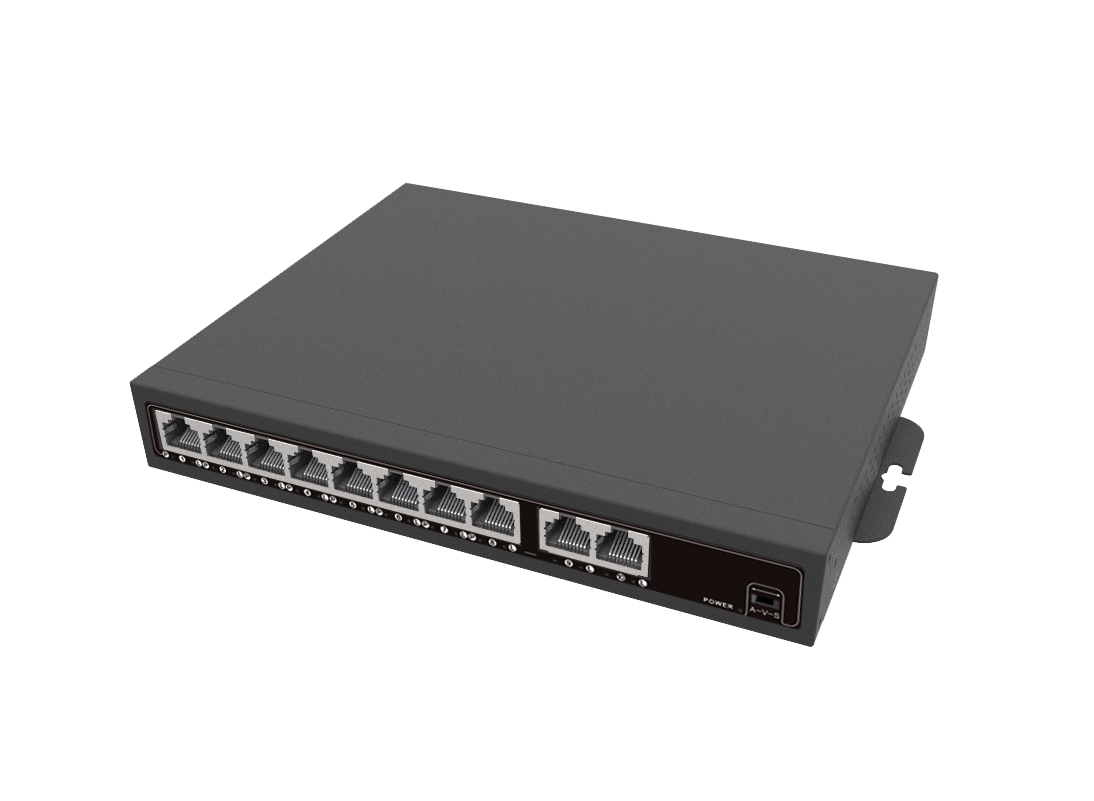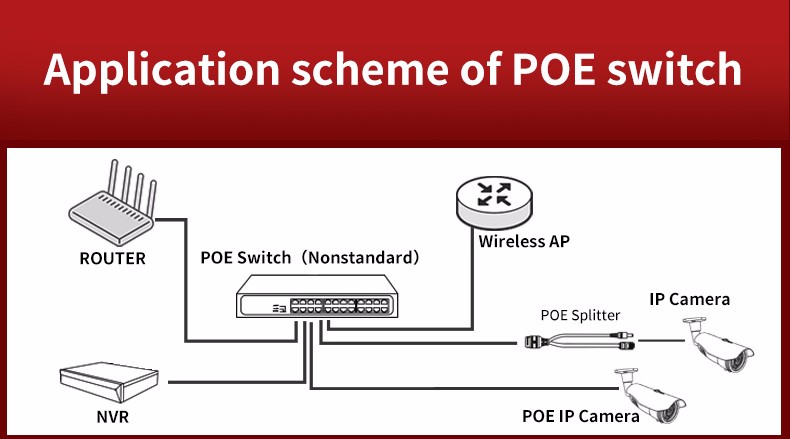 Application Environment:
1. Metropolitan area fiber broadband network: telecommunications, cable TV, network system integration, etc., according to network operators
2. Broadband private network: suitable for financial, government, petroleum, railway, electric power, public security, transportation, education and other industries.
3. Multimedia transmission: integrated transmission of images, voice and data, suitable for remote teaching, conference TV, videophone and other applications
4. Real-time monitoring: real-time control signals, images and data are transmitted simultaneously
| | |
| --- | --- |
| Model | Description |
| STD-POE5203-10 | 8 Ports 10/100Base-Tx POE+ 2 Ports 10/100Base-Tx,802.3af |
| STD-POE5203-10 | 8 Ports 10/100Base-Tx POE+ 2 Ports 10/100Base-Tx,802.3at |
1.All products are certified with CE,EMC FCC, CCC,ROHS.
2.All products are designed and produced by Steady own engineers and factory.
3.OEM and ODM is acceptable.
4.Warranty: Three year for power supply series and five years warranty for POE series ,warranty period starting from shipping date .
5. Delivery Time: 15-20 Working days after the order is confirmed